The Novel
Jack and Anna are dead. Not romantic vampire dead. Not even night-of-the-living dead, but really dead.
At least Jack is. Anna might just be having a near-death experience. It's surprisingly hard to tell. Either way, they're on a path through the afterlife; where Death wears a polo shirt, factories manufacture broken things, and forests try to trap you. To make it through, they have to stick together.
But sticking together would be a lot easier if they weren't both keeping secrets. Anna is awesome at pretending everything is fine…until she isn't. Meanwhile, Jack is afraid he's gone crazy and this whole adventure is part of his delusion.
Somehow, they're going to have to trust each other if they want to make it through to the other side — wherever that is.  
Me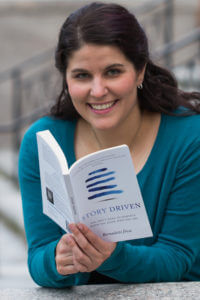 I've wanted to be an author for almost as long as I've been able to read, and I don't remember not being able to read.
Growing up, my favorite books (in chronological order) were:
Little Max the Cement Mixer by Renee Bartkowski
The Little House on the Prairie Series by Laura Ingalls Wilder
Animorphs by K. A. Applegate
The Redwall Series by Brian Jacques
The Song of the Lioness Series by Tamora Pierce
American Gods by Neil Gaiman
And anything by Terry Pratchett (especially his Discworld books (especially, especially the Sam Vimes storyline.))
In college, I flirted with graphic design before switching to a more comfortable Journalism major. I wrote for the Bangor Daily News as an intern. Near the end of my time there, I was standing on the shore of a river on Christmas Eve waiting for search and rescue divers to pull a body out of the water, when I realized journalism wasn't for me.
I fiddled around for awhile, experimenting with the new options for writing careers offered by the internet. I remember making a tenth of a cent per word on the content mills. (back in my day)
Now I have a thriving freelance writing business, that allows me to research, learn and write to my heart's content. Well…almost.
I can't seem to let go of that dream I had when I was a child. That dream of publishing a book and someday, weeks or months or even years later, getting a letter in the mail that says: "I read your words, and they changed me."
That's all I want, to know that I changed a life the way all those authors listed above changed mine.